Book now
Escape room
Sherlock Holmes
Pay on arrival, or pay online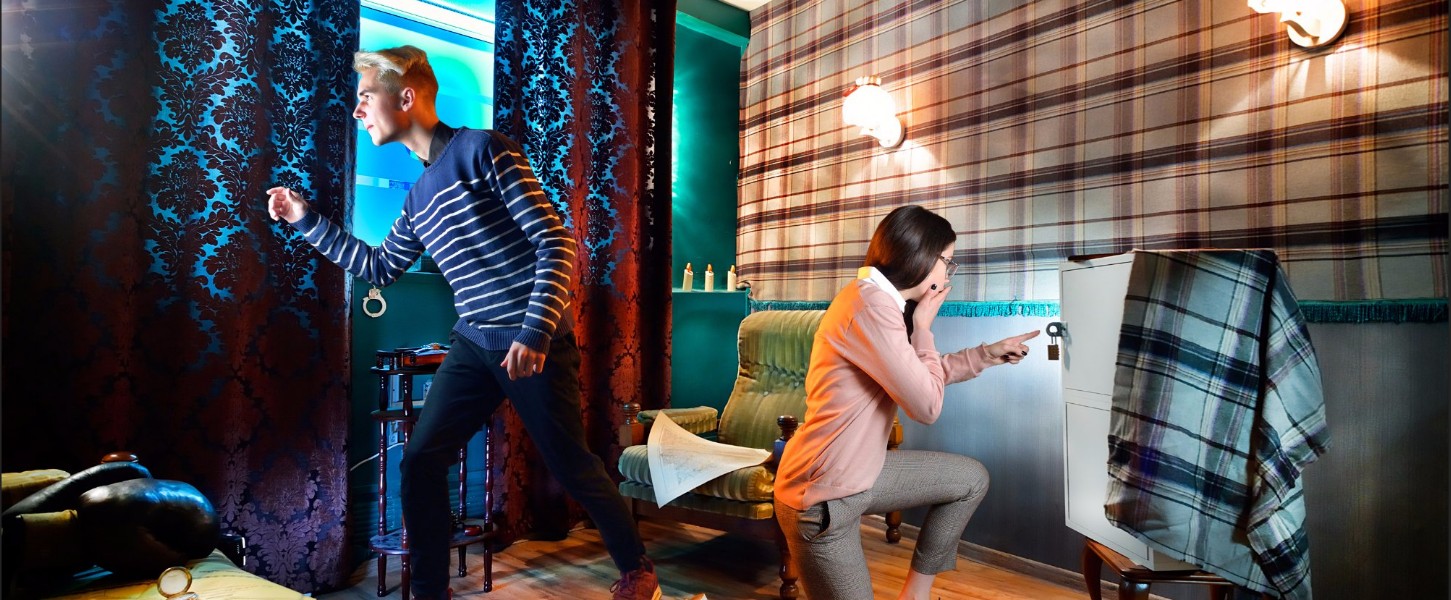 Who among us has not been encouraged by a master of deduction Sherlock Holmes? You have the opportunity to try yourself in the role of the famous detective and solve a chain of puzzles and tasks to reveal the secret of the mysterious disappearance.
Can You with only an hour of time apply all Your deductive capabilities and get to the truth?
Nearby Escape Rooms (22):
RECENT REVIEWS OF Sherlock Holmes ESCAPE ROOM
Ксения Rating
Квест очень понравился , конечно мозгами надо пороботать. Было сложновато , но понравилось ????????
---
Ekaterina Rating
А мы наоборот ожидали, что игра будет статичная, интересная, надо будет много думать и мало двигаться. Были в комнате с мужем и родителями. И очень советую эту комнату интелектуалам, кому не нравятся всевозможные квесиы-страшилки. Обязательно сходим еще в Мексику.
---
Екатерина Rating
Шикарный квест! Очень интресно доя разнообразия пошевелить мозгами. Пусть он и достаточно статичный, но зато в этом и его сложность. Обязательно придем играть в Мексику:)
---
Jana Rating
Väga lahe põgenemis-mõistatustuba oli. Kuna ei saanud sealt küll tunni ajaga välja, siis kunagi tahaks uuesti selle läbi teha ja välja saada, sest väga lahe oli :)
---
---
Terje Rating
Meile meeldis. Tegemist ülesandega, milles vaja rohkem mõelda. Ei ole selline "õudne" tuba. Saime hakkama ajaga 47 min.
---
Piret Talviste Rating
Meile kõigile väga meeldis, tõesti kaasahaarav. Ajataju kadus natuke ära, ainus millest ise puudust tundsin, oli see, et oleks võinud vahepeal teada anda, palju aega lõpuni on jäänud (10 minutit või 5 minutit vms), sest pinge oli täitsa maas, lahendasime rahulikus tempos ülesandeid, läks täitsa meelest, et aja peale. Kui oleks mingi teade vahepeal tulnud, oleks ilmselt pigent üles kruvinud (ei olnud endal ka kella käe peal).
---
Kristiina Palu Rating
Väga kihvt oli!
---
Anette Rating
Olen käinud ca 20 erinevas Tallinna põgenemistoas ja see kindlasti top3-s.
---
Viktoria Rating
Do not recommend this quest for anybody, it's was boring.
Ходили на день рождение - сказать, что фиаско, значит ничего не сказать)) Если вы отходили как минимум 2, уже сюда идти не советую.
Нельзя спойлерить, но пространство для игры НУНЕРЕАЛЬНОМАЛЕНЬКОЕ. Я считаю эту комнату проще снести и сделать новую. Особенно в сравнении с их второй комнатой, побег из Мексики(кажется так?) которая нам очень понравилась, этот Шерлок полный провал.

Пишу негативный комментарий, потому что не хочу чтобы кто-то еще так сильно обломался :) Мне пришлось срочно кооперироваться и чтобы исправлять динамику своего дня рождения, пошли еще в одну квест комнату, не буду создавать на этой почве рекламу, в общем удачно сходили в другую. Этот Шерлок - просто деньги на ветер, не совееетуууую :)

---
Maria Zorina Rating
Очень своеобразная комната. На мышление именно, не на поиск. Тут кому что нравится. Если именно имеется желание порешать головоломки, то мне кажется она стоит прохождения. Для меня лично + именно за неординарность.
---
Merily Rool Rating
This room was hard, but definately recommend!
---
Alexander Rating
Oli väga tore!
---
Merily Rool Rating
Väga huvitav oli. Aega võiks olla rohkem ehk, sest tuba on raske. Kuid vilunumatel käib see ilmselt rutem!
---
Ville Sielunahjo Rating
This was something different. The lots of locks and nice riddles.
---